I love roasted potatoes of any kind but they're not real summery. Summery potatoes consists of potato salad and sometimes that just gets old. But let's be honest we're not going to take regular ole' roasted potatoes to a cookout anytime soon. I would however take these bright and summery lemon salt roasted potatoes to any cookout and be dang proud of them. They're so so so good. Like so good that I made the whole 2 pound for just Alex and I so we could munch on them all week.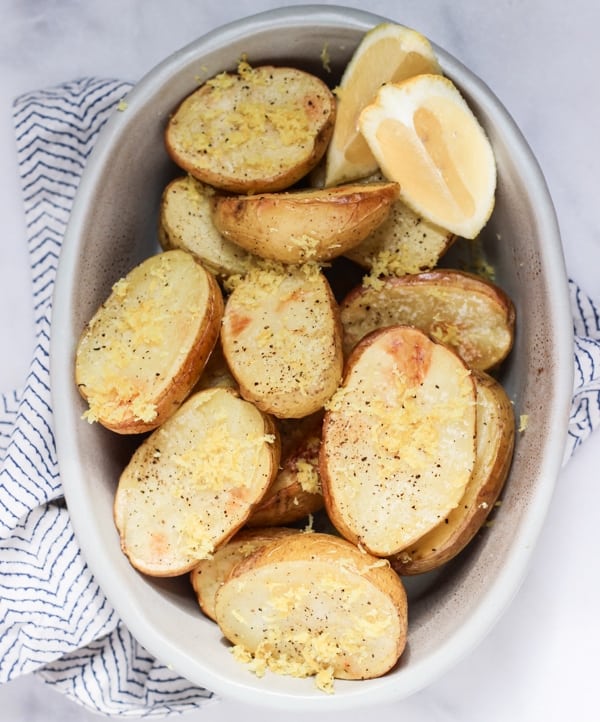 They go with practically anything and I've found they're especially delicious with grilled salmon or meatloaf. Alex was afraid that they would be too lemony. Apparently he hated lemon pepper anything growing up and thought these would have that flavor. Not at all. The lemon zest isn't as strong as lemon juice so you just get this nice lovely lemon flavor along with the creamy potato. Perfection.
I've tried making these with regular white potatoes and red potatoes and neither are as good as the golden fingerlings. They really take it to the next level. They're a little more buttery and smooth than other potato varieties so be sure to look for them.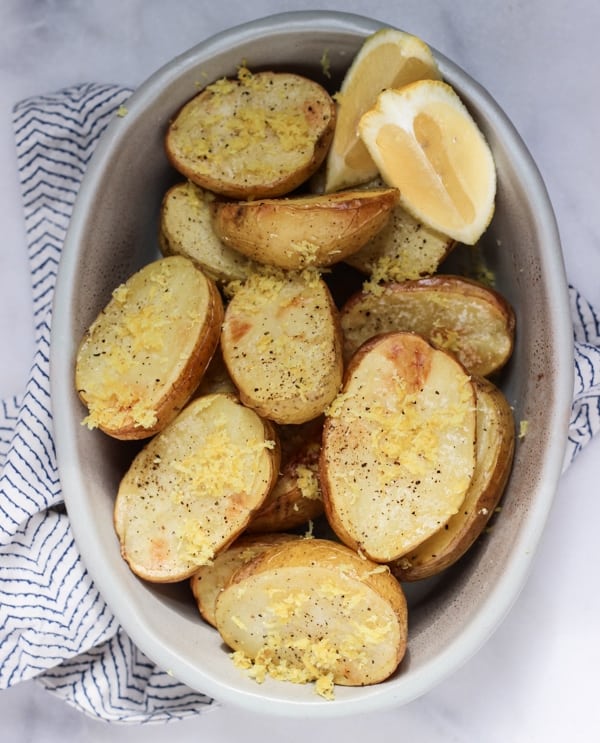 Lemon Salt Roasted Potatoes
2014-07-10 14:06:54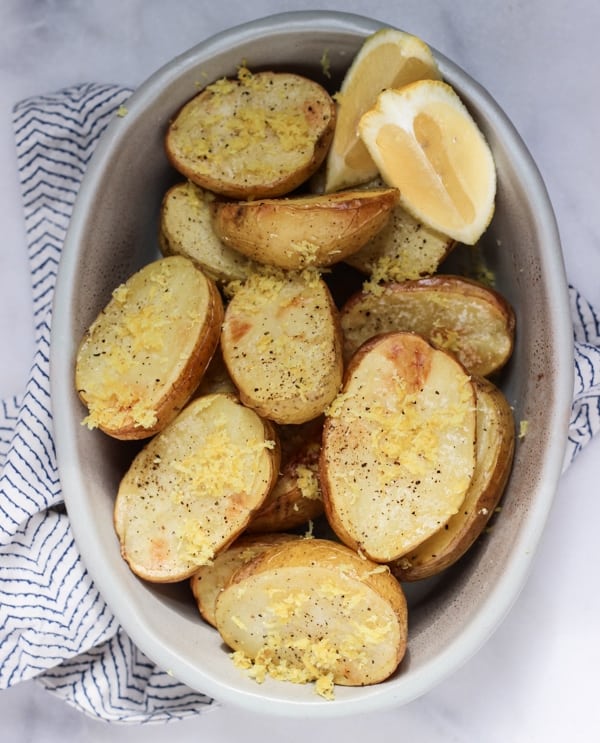 Ingredients
1 lemon, zested
1½ tablespoons flaky sea salt
2 pounds golden fingerling potatoes, halved lengthwise
2 tablespoons extra-virgin olive oil (or you can use your misto to lightly cover each potato!)
Freshly ground black pepper
Instructions
Preheat the oven to 425°.
Combine lemon zest with sea salt in a small bowl.
Place potatoes on a large baking sheet and either drizzle with 2 tablespoons olive oil or do what I do and lightly spray each potato with a misto sprayer. Top with fresh black pepper.
Roast for 30 minutes, then remove from oven and toss with the lemon salt.
Return to the oven and continue to roast until the potatoes are golden-brown and crispy and easily pierced with a fork.
Adapted from Buzzfeed
Wicked Spatula http://wickedspatula.com/