One of the most overlooked pieces of protein is duck in my opinion. It's so flavorful and easy to cook yet it doesn't make its way to most peoples dinner table. Maybe it's hard to find in some grocery stores? Or maybe it's intimidating. I'm not sure. Let me tell you though, it's easy, delicious and rewarding!
I think rendering the duck fat may be my favorite aspect of duck. It's perfect for roasting potatoes and takes them up a notch. I once had duck fat tater tots at a restaurant in Nashville and they were so good! You might not be able to tell with the cookie recipes I've been posting but Alex and I are eating Paleo right now and seriously considering making it a lifestyle and not a short term diet. I feel so much better and have so much more energy eating this way and not to mention have been losing weight effortlessly. I'm not counting calories and just eating until my body says to stop. Plus my blood pressure is dropping and my heart rate has strayed away from the +100 bpm that it usually is. If you want to read more about the Paleo diet I suggest you look into Marks Daily Apple, there is a plethora of information on his site and it is worth a read.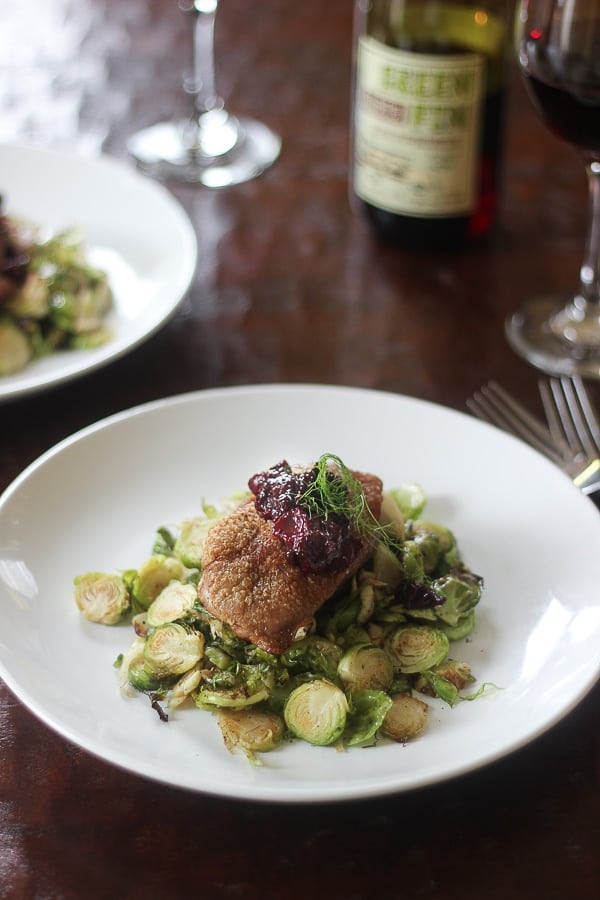 So what does that mean for all the cookies I'm posting for National Cookie Month? Well, most of them are going to neighbors and co-workers and I'm not going to lie, I haven't eaten any except for the Paleo Biscotti and the Chocolate Cherry Cookies, but I may have eaten half the dough before even baking them. They're my all time fav but afterwards I felt sluggish and anxious. Maybe sugar really is the root of all evil? Back to this duck though. It was seriously one of the easiest things I've ever made and was a lovely romantic dinner. I recently checked out about 1,000 (really like 10) paleo cookbooks from the library and I have to say that Practical Paleo
is the bomb. I couldn't put it down. The way Diane lays out information is genius. Not to mention that every single recipe looks awesome. Other than buying the book, which you should totally do, you can also check out her website Balanced Bites.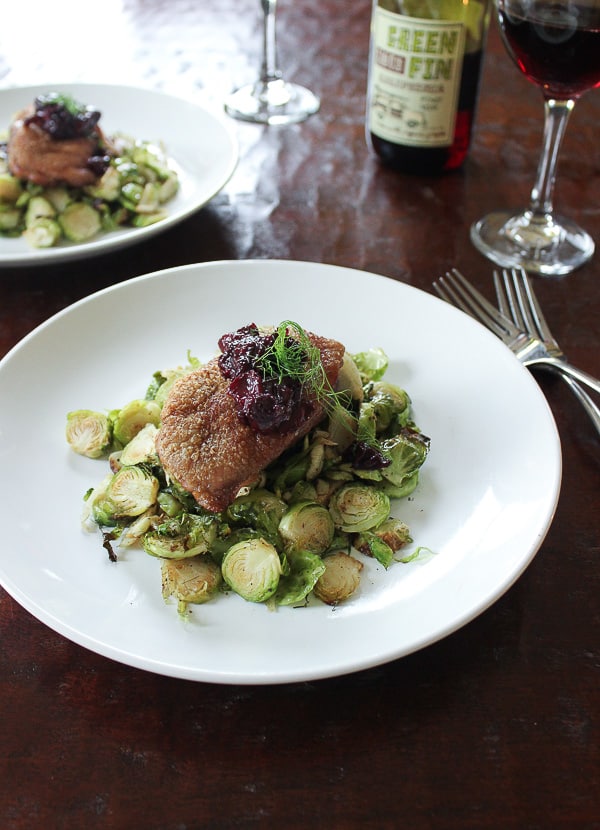 I'm loving fennel right now and when roasted with the Brussels sprouts it becomes the perfect side dish for the duck. I hope you'll give this a try the next time you need a healthy but induldgent meal. Enjoy!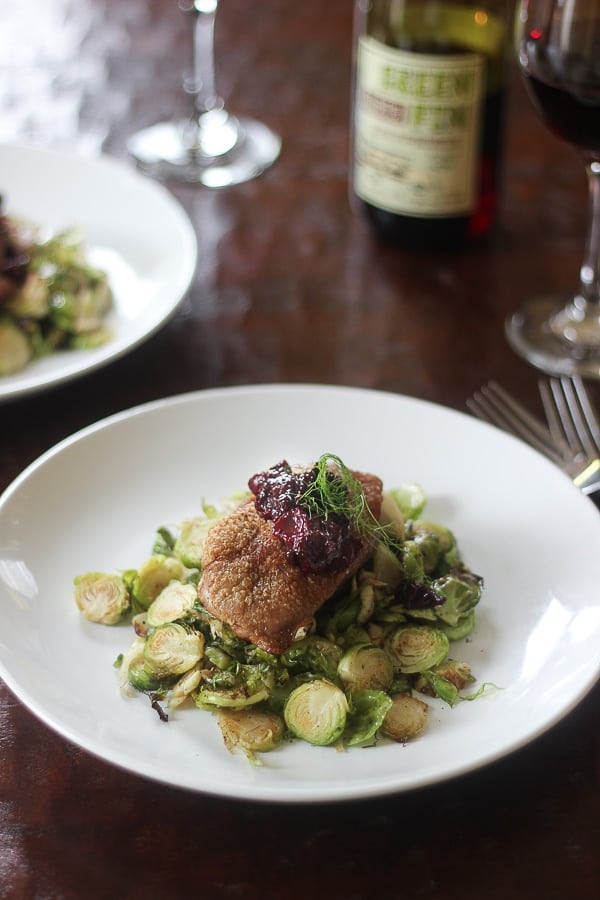 Roasted Duck with Brussels Sprouts & Fennel
2014-10-23 13:22:35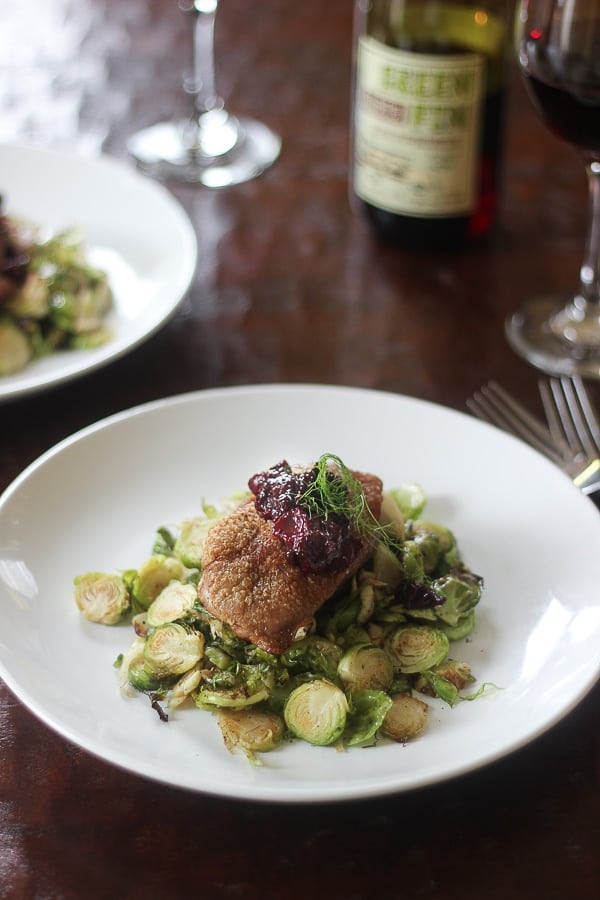 Ingredients for the Duck
2 duck breasts
1 teaspoon salt
1/2 teaspoon rosemary
1/2 teaspoon sage
3/4 cup cherries (frozen or fresh)
1/4 teaspoon honey
Ingredients for the Brussels Sprouts
4 cups Brussels sprouts
1 bulb fennel, thinly sliced
2 tablespoons melted bacon fat (you can also use butter or coconut oil)
2 tablespoons chopped fennel fronds
Salt and fresh black pepper, to tast
Directions for the Duck
Preheat oven to 320
Season duck with the salt, rosemary and sage
In an oven safe skillet over medium high flame place the duck skin side down and sear until the skin is golden brown and some of the fat has been rendered out. (You can reserve the duck fat for a latter use)
Transfer skillet to oven and roast for 60-80 minutes or until the internal temperature reaches 165.
While the duck cooks, simmer the cherries with the honey in a small saucepan over low heat until the fruit starts to reduce and break apart.
Transfer sauce to a blender or food processor and blend until smooth, set aside.
Top the duck with the cherry sauce to serve.
Directions for the Brussles Sprouts
Preheat oven to 375
Slice sprouts into 1/8 inch pieces. Be sure to remove the ends and the outside leaves.
Thinly slice fennel.
Toss vegetables with your fat of choice and spread on a large baking sheet.
Top with fennel fronds, salt and pepper.
Roast for 20-25 minutes or until nice and crsipy.
Adapted from Practical Paleo
Wicked Spatula http://wickedspatula.com/