For the month of October I've teamed up with a few other bloggers, some that I had the opportunity to meet at the Food Blog Forum in Asheville in August, to bring you some wonderful cookie recipes for National Cookie Month! Each week we have a different "theme" so stay tuned and check out their links at the bottom of my post!
This weeks theme is Childhood/Family Favorites. There was no question what cookie I was baking this week. Every Christmas growing up we always made a ton of different Christmas cookies and candies. I always had a favorite though, Dark Chocolate Cherry Cookies! Maybe it's because I loved chocolate covered cherries or maybe it's the brownie like cookie that is so incredibly fudgy but something always made them my favorite. It's such a super easy recipe too and can be thrown together in a matter of minutes.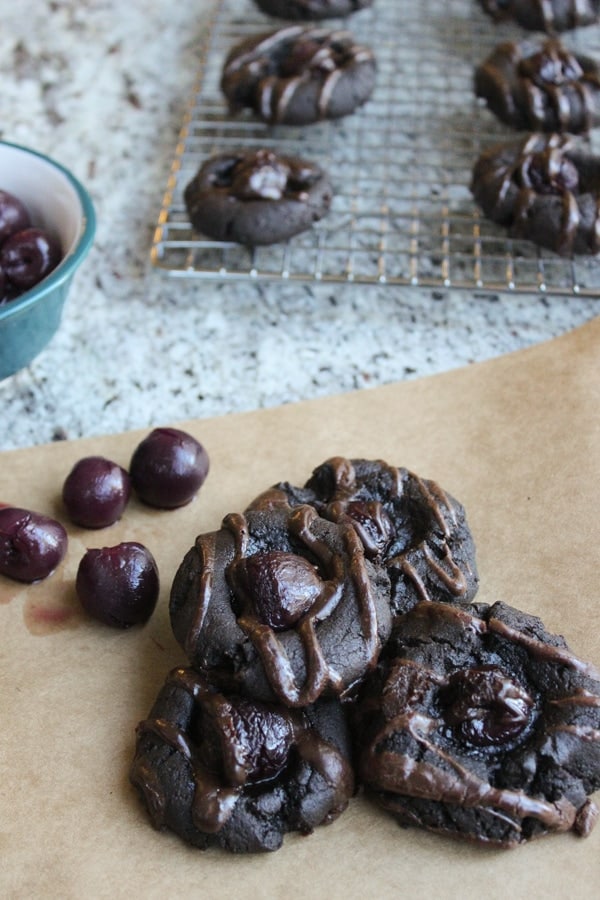 Alex and I have been eating paleo and it took everything I had not to eat the entire batch. It only makes 18 cookies, eating 18 cookies wouldn't be bad right? They're little. I refrained, though I may have ate a couple of cookies worth of dough before baking. Maybe the batch makes about 24 cookies. Be sure to transfer to a cooling rack
shortly after baking so they will harden up a bit.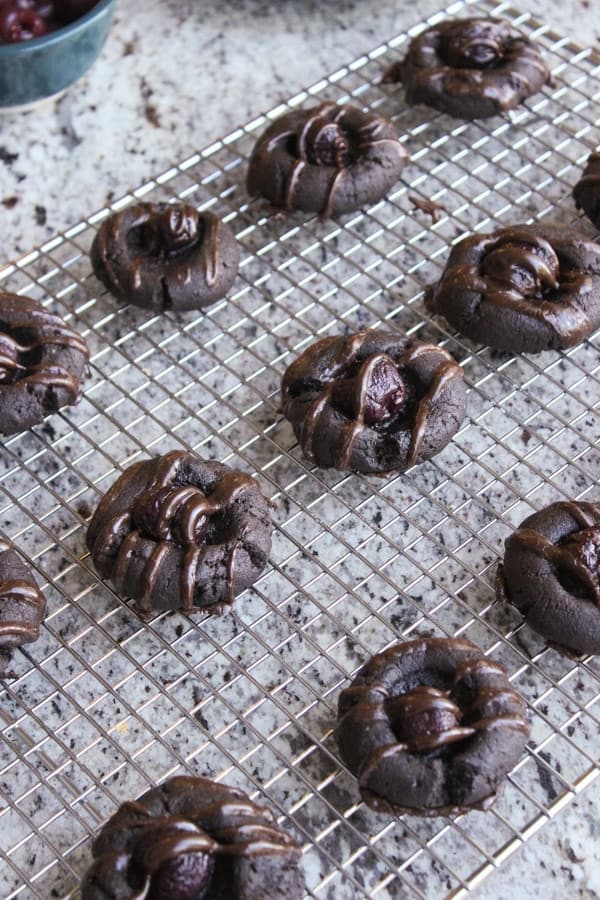 They bake up to be soft and chewy and perfectly fudgy. Finished off with a cherry then drizzled with melted chocolate = cookie perfection.
Be sure to check out my cookie month partners and their amazing recipes: Jess at The 104 Homestead – Kathie at Homespun Seasonal Living – Tessa at Homestead Lady – Chris at Joybilee Farm – Sheila at Life, Love, and Good Food – Wendy at The Monday Box – Nikki at Nik Snacks – Shari at Pure Grace Farms – Angi at Schneiderpeeps
The following companies generously sponsored various cookie month projects. I may not have used all of them in my recipes, but this project is in no small part thanks to them and their incredible contributions: Bob's Red Mill, The Daily Meal, India Tree, KerryGold, King Arthur Flour, Product of GIR, KaTom, SunButter & Wilton.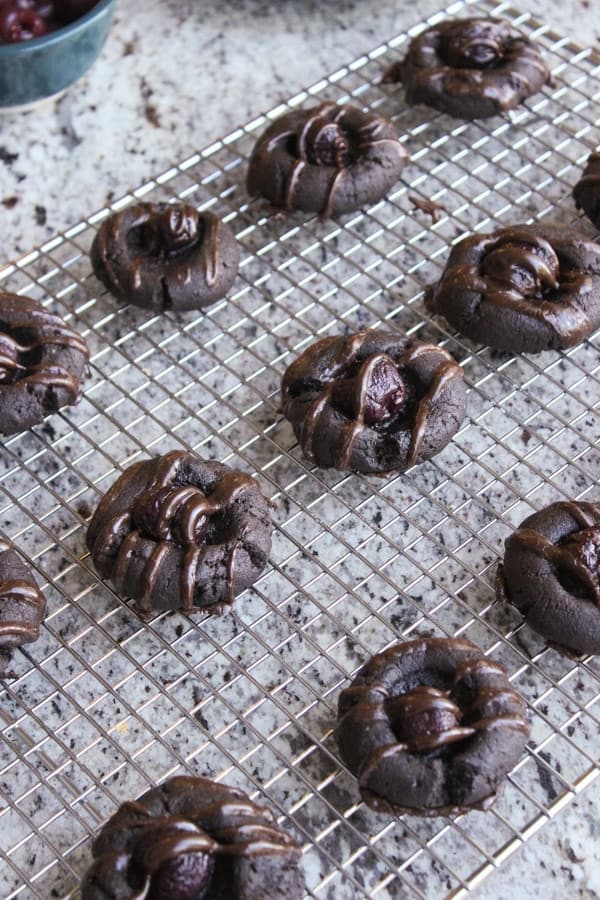 Dark Chocolate Cherry Cookies
2014-10-09 05:33:52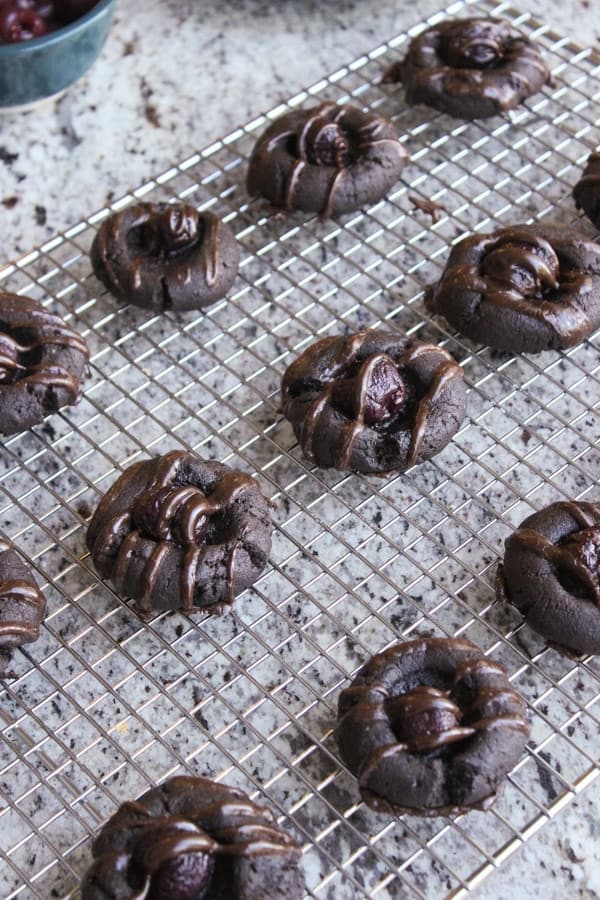 A delicious brownie like cookie.
Ingredients
1/2 cup butter
1 cup white sugar
1 egg
1 1/2 teaspoons vanilla extract
1 1/2 cups all-purpose flour
1/2 cup unsweetened dark cocoa powder
1/4 teaspoon salt
1/4 teaspoon baking soda
1/4 teaspoon baking powder
1 jar maraschino cherries or cherry pie filling
1/2 cup sweetened condensed milk
1 cup semisweet chocolate chips
Instructions
Preheat oven to 350 degrees.
Cream the butter and sugar together in a mixer.
Add egg and vanilla and beat well.
mix in the flour, cocoa powder, salt, baking soda and baking powder and mix until smooth.
Roll dough into 1-inch balls.
Place on ungreased cookie sheet. Make a little indentation in the center with your thumb big enough to hold a cherry.
Drain cherries and reserve juice. Place a cherry in each indentation.
In a saucepan, over medium heat melt the condensed milk and chocolate chips until creamy and smooth.
Stir in 4 teaspoons of cherry juice then drizzle the cookies with the icing.
Bake in preheated oven for 10 minutes.
Wicked Spatula http://wickedspatula.com/