I've always been proud when I can recreate a restaurant dish at home and it's as good if not better than the restaurant. This sesame chicken is just that. I couldn't believe how good it was. We had been craving sesame chicken for awhile but every time we go out for Chinese it KILLS my stomach. Like, can't eat again for days kills it. So, this situation clearly called for an at home verison. While it may not be considered "healthy" it sure is healthier than take out. Don't freak when you see the amount of sugar, I promise you'll be okay and no it probably won't be the same if you use honey or agave, believe me I've tried. Again just think of how you're not eating the questionable chicken and MSG ridden takeout food. See, all better :)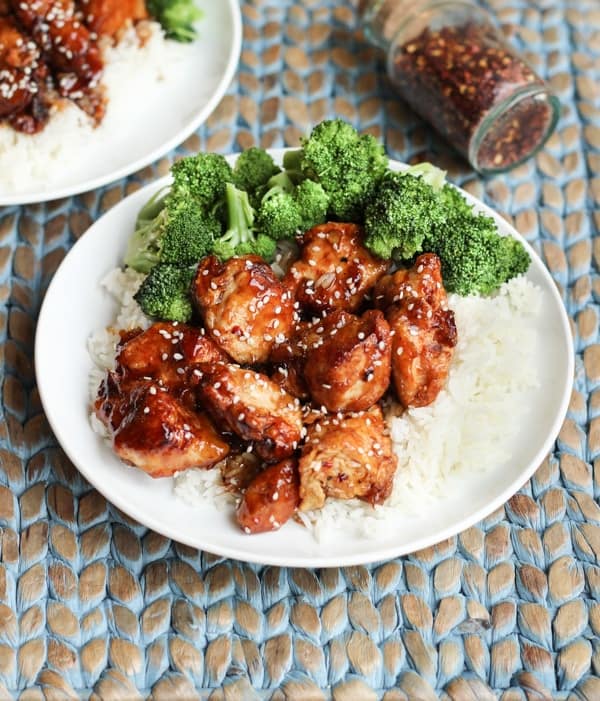 Sweet, sticky, crunchy chicken…that's what sesame chicken is all about and this one meets all three of those criteria. Throw in some steamed broccoli for good measure and serve on a bed of rice and you've got the perfect fake out meal. Be sure to make extra because it's even better the next day! I usually think that with everything though, I love leftovers. Oh and if you like your food extra spicy like I do then add a extra pinch or two of red pepper flakes and you'll be golden.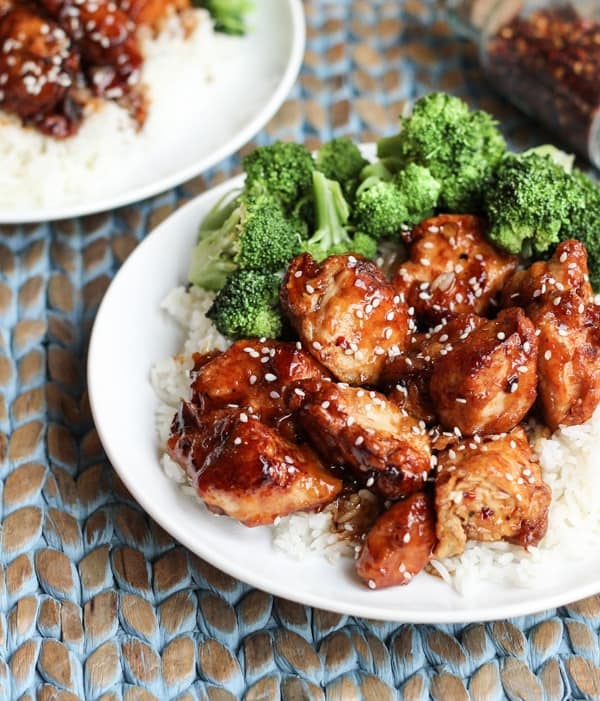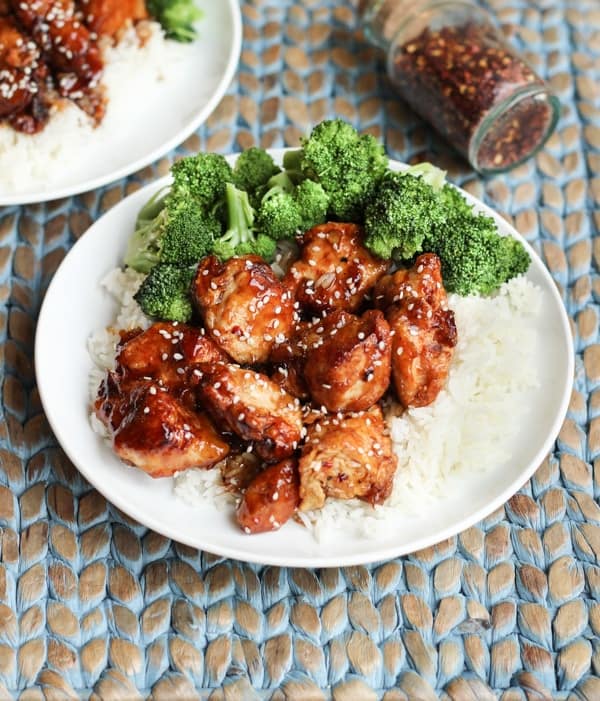 Gluten Free Sesame Chicken
2014-07-28 12:22:27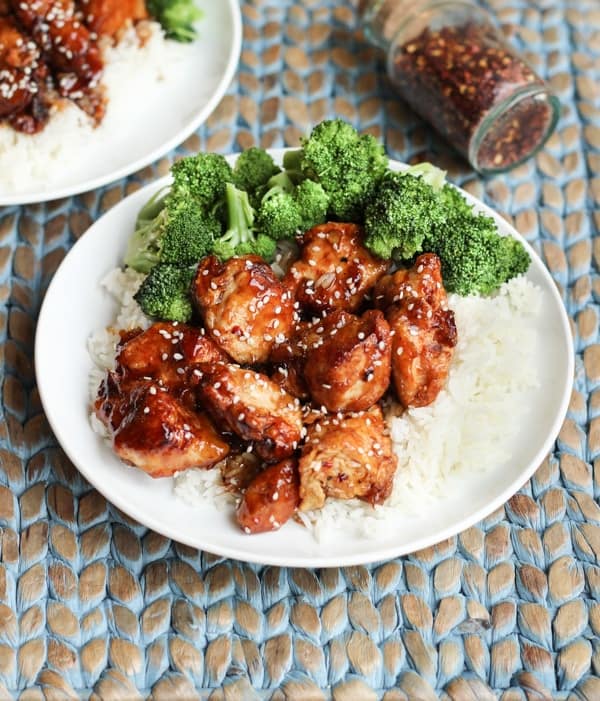 Serves 4
Sweet, sticky and crunchy sesame chicken that will have you rethinking your weekly takeout order!
Ingredients
1 1/2 lbs of chicken breast, cut into bite size pieces
1/4 cup plus 1 Tablespoon of Tamari
2 1/2 Tablespoons of rice vinegar plus 1 teaspoon
1 cup gluten-free chicken broth
1/2 cup sugar
1/4 cup cornstarch plus 2 teaspoons
2 egg whites, lightly beaten
1/2 cup canola oil
3 cloves garlic, minced
Red pepper flakes
3 TBL sesame seeds
4-6 green onions, chopped
4 cups cooked jasmine rice
Instructions
In a medium bowl combine sugar, 1/4 cup of the tamari sauce, 2 1/2 Tablespoons ricer vinegar and chicken broth. Set aside.
In a separate bowl, combine chicken pieces, remaining 1 Tablespoon of tamari, and 1 teaspoon of vinegar. Marinate chicken for about an hour.
Once the chicken has marinated add egg whites and cornstarch and stir until all of the chicken is coated in the batter.
Over medium high heat heat the oil in a wok or large skillet.
In about 2 - 3 batches fry chicken until golden on both sides about 4-5 minutes depending how big your pieces are.
Remove chicken from wok and place on paper towels so the excess oil will drain off.
Leaving a few tablespoons of oil in the wok reduce the heat to medium and saute the garlic and pepper flakes until fragrant about a minute.
Add tamari sauce mixture. Increase heat to med-high and cook sauce for about 10 - 15 minutes. Stir remaining two teaspoons of cornstarch into a about 2 tablespoons of water and whisk it into the sauce. When the sauce has thickened add the chicken and toss to coat.
Garnish with green onions, sesame seeds, and serve over jasmine rice.
Wicked Spatula http://wickedspatula.com/