After 3 days of eating almost nothing but sweet potato waffles we decided that we needed something a little lighter for a change. Those waffles are GOOD. This buffalo chicken caesar salad fit the bill nicely. I had some leftover Franks Red Hot in the refrigerator from a buffalo chicken dip I had made for Alex's fantasy football draft party and decided that it would be great with my standard caesar salad recipe. Seriously the quickest and easiest dinners are always the best.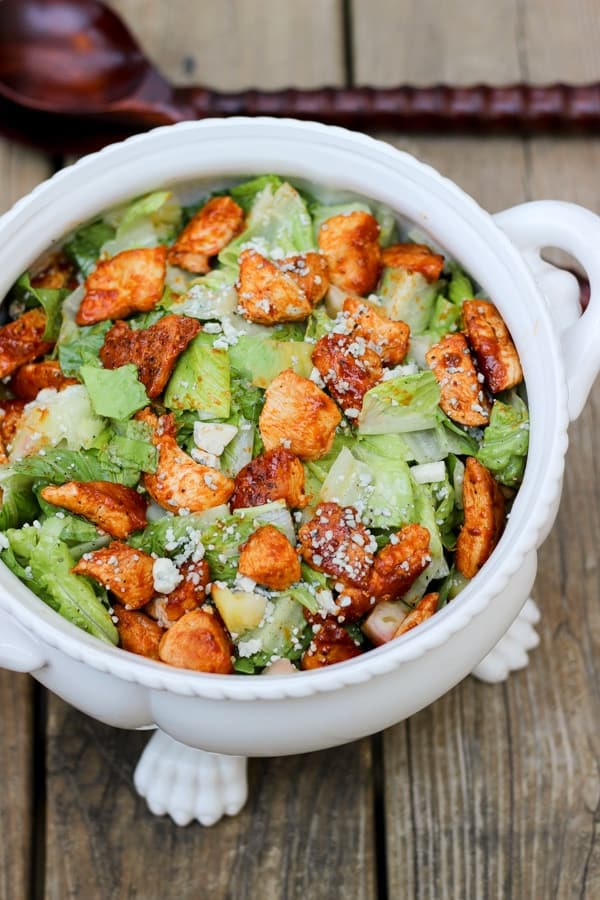 I think I've mentioned before that there's always two things I have to try at a new restaurant if they're on the menu. One being Pad Thai and the other being Caesar Salad. I'm very particular about my caesar dressing, it has to have a very noticeable anchovy flavor and not be creamy. My version is just thick enough to not be watery and has a nice punch of anchovy. If you're not a fan of them you can scale back a bit, maybe halving the anchovy amount. Alex hates anchovies but loves this caesar dressing so maybe add them one at a time and taste to see what's good for you. Also, I want to mention that in the recipe directions I state to use a food processor to make the dressing but there's other ways too. I've found that an immersion blender works great (if you don't leave it going to long or you'll end up with whipped caesar dressing, ha!) and is a breeze to clean up. You can totally whisk it by hand too, it'll just take a little longer. This is a quick and easy weeknight dinner that's sure to please. Enjoy!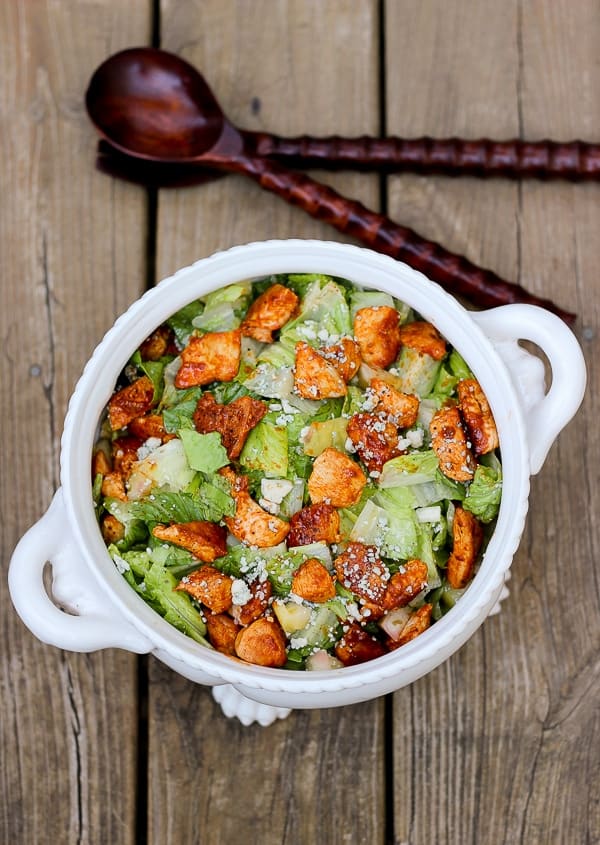 Oh! and starting tonight at 8 p.m. EST I'll be participating in a Round Robin Facebook giveaway with 14 other bloggers. What that means is that you have the chance to win 14! different prizes. I'll be giving away a $25 Amazon gift card. Simply head on over to my Facebook page starting at 8 p.m. and read the post on how to enter! The giveaway will be live for 24 hours.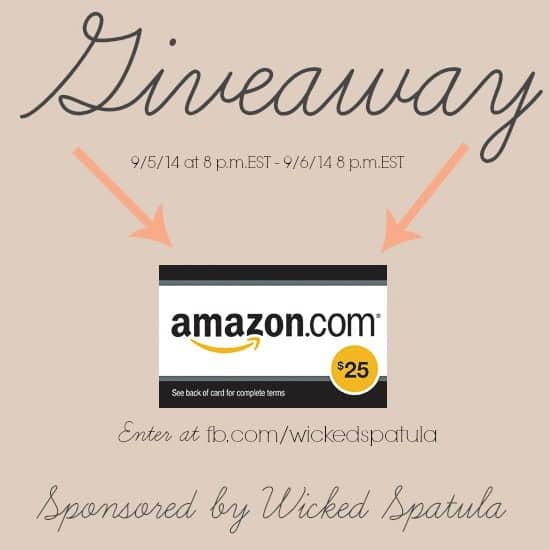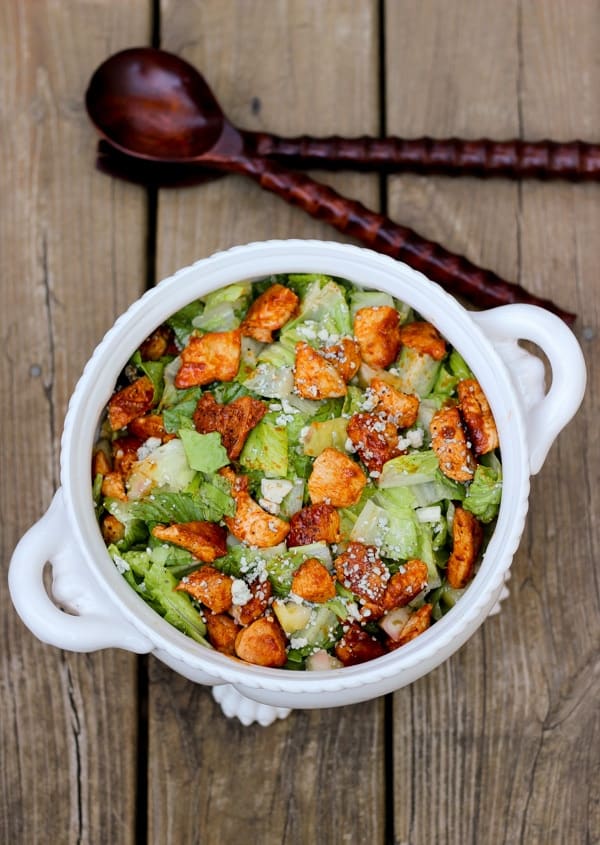 Buffalo Chicken Caesar Salad
2014-09-04 14:47:59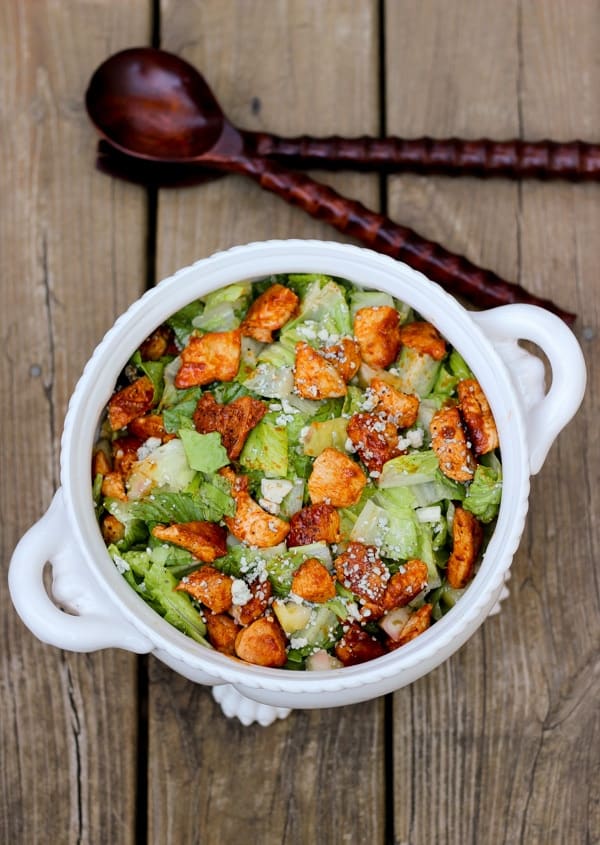 Serves 4
Ingredients
1 lb chicken breast
2 tablespoons olive oil
1/4 cup buffalo sauce
3 small heads of romaine
2 small garlic cloves
3-4 anchovy filets packed in olive oil
1 egg
1 tablespoon Dijon mustard
1/2 cup olive oil
Juice of 1 lemon (about 2 tablespoons)
Salt and freshly cracked pepper, to taste
Fresh Parmigiano-Reggiano for topping
For the Chicken
Cut chicken into bite size pieces, season with salt and pepper.
Heat a large pan over medium heat and add the oil. When the oil is hot saute the chicken until cooked through and browned (10-15 minutes total) add hot sauce and stir until fully coated.
For the Dressing
In a food processor, combine egg, garlic, anchovy, Dijon mustard, and lemon juice. Pulse until combined.
Slowly stream in 1/2 cup of olive oil until the dressing is emulsified.
Season with salt and pepper to taste
Store in the refrigerator until ready to use.
To Assemble the Salad
Chop lettuce into bite size pieces and toss with dressing.
Top with chicken and cheese (if using)
Wicked Spatula http://wickedspatula.com/